"If you have been looking for fun outdoor experiences to do with your children, then why not take them fishing and teach them a hobby they'll enjoy for life?"

– Enjoy Life
Can you remember the first fish you ever caught? I can. It was when I was a little boy, and my cousins and I were taken fishing by my grandfather to a small rickety wooden pier close to home. I still remember how excited I was to get that first bite and ultimately wind that fish in. I can still taste how fantastic that first fish was and to this day still enjoy relaxing with a fishing rod in my hand on the ocean.

The future of fishing is in the hands of our youth and promoting youth fishing is the only way to ensure that we continue our relationship with the oceans and waterways of this fantastic country.

The easiest way to ensure that we have fishing ambassadors moving forward is to encourage young people to take up fishing as a recreational sport or hobby. Across the state of Florida, we're blessed to have some of the best fishing in the United States. After all, they don't call Florida the 'Fishing Capital of the World' for no reason!

Although some may argue the point, Florida has a rich and diverse group of natural waterways, including over three million acres of ponds and lakes, twelve thousand miles of streams and rivers, and almost eight thousand miles of coastline.

It doesn't matter where you are in Florida. You're never far away from the water, and it presents you with thousands of different great fishing options for young people. In the following article, we're going to take a closer look at 10 reasons to get your kids outdoors and fishing more. From one fisherperson to another, introducing someone to the joys of fishing is one of the most rewarding things that you'll ever do.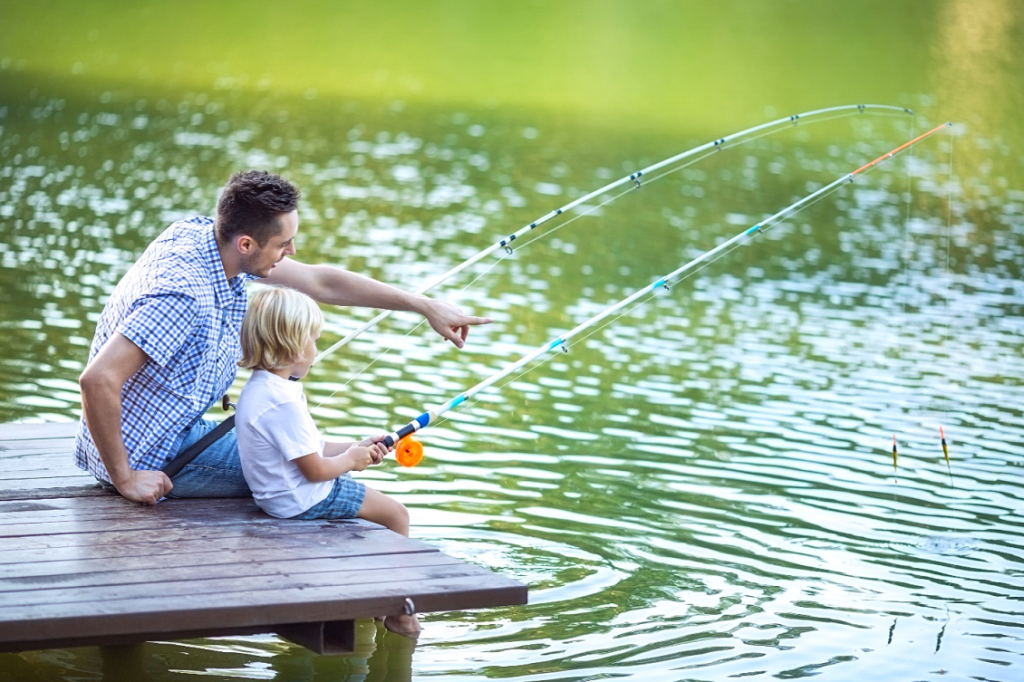 10 Reasons to Get Kids Outdoor Fishing!
Fishing Is Fun! – We're going to put this right at the top of the list because it's one of the most important reasons to get kids fishing more. Fishing is hours of fun outdoors away from electronics and can be extremely rewarding for young children.
Fishing Is Great Quality Time – If you have been searching for a cheap and affordable way to get some quality time with your kids. It doesn't cost much after the initial setup, and you can spend as much time as you want fishing for little to no cost.
Learning to Explore the Outdoors – There's a whole big world out there past the electronic screens, and fishing is a great way to explore everything that nature has to offer us.
Fishing Is A Lifetime Skill – Once you learn to fish, you'll be able to go fishing forever, and there are a variety of different types of fishing you can explore, including saltwater and freshwater fishing.
Develops Physical Skills – Not only does fishing develop physical muscles by promoting activity, but it can also help young children to learn valuable hand-eye coordination.
Fish Taste Great! – Going out and catching your own fish is not only fun, but if you target the right species of fish, you can even take a meal home for your family.
Fishing Is Cheap – If you're looking for a cheap and affordable hobby, fishing is a great idea. Once you buy a rod and reel and a basic tackle kit, you don't have to pay much to get out on the water.
Fishing Is Universal – There is some great fishing to be had across the country and worldwide. In addition, it's a great way to explore different cultures and locations.
Fishing Is For All Ages – It doesn't really matter how old or young you are. There are some great locations to fish that are safe and easily accessible.
Fishing Doesn't Discriminate – It doesn't matter how old you are, your race, religion, sex, or cultural background. Anyone can go fishing.
10 Reasons to Get Kids Outdoor-Fishing More! – Conclusion
Hopefully, you now have ten reasons to get kids outdoors and fishing more across the country and in the great state of Florida. But unfortunately, we live in a world where instant gratification and access to information are almost instantaneous.
This makes it extremely difficult to learn gratification and patience. Luckily, fishing is a great way to learn patience and build a deeper connection with the outdoors.
If you have any questions about learning to fish or would like to offer suggestions about how you got your kids into fishing, then please don't hesitate to reach out to us. We'd love to explore this subject more, and we welcome all feedback from fishing enthusiasts across the country. Again, if you have any questions, please don't hesitate to reach out!